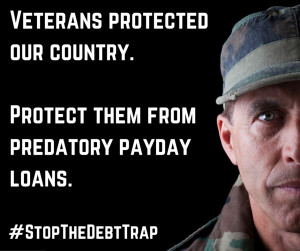 The Defense Department called payday lending a threat to military readiness and as far back as 2006, stepped in to try to stop it, but the payday loan industry punched its way through every loophole it could find. Then in October of this year, the Defense Department updated the Military Lending Act by setting a strong 36% rate cap on consumer loans to service members and their families to stop the industry outright from preying on men and women in uniform. Unfortunately, the Department of Defense doesn't have the jurisdiction over lending to veterans, and payday lenders are still targeting them.
This Veterans Day, groups across the country are calling on Congress and the Consumer Financial Protection Bureau to expand protections to veterans and all Americans.
We know veterans are a key target demographic for payday lenders, and veterans like Mas. Ser. (Ret.) Richard Kitterman and Maj. Gen. (Ret.) Ken Cox have been speaking out against the scammers. Kitterman penned a piece in the American Banker proclaiming that veterans need more than lip service: they need action to protect them, whether through the CFPB or Congressional action.
Several members of Congress have heeded the call. As Representative Eddie Bernice Johnson (D-TX) said this month from the floor of the House,
"These companies have targeted our vulnerable veterans with limited financial options, digging them deeper and deeper into debt. We in the Congress must work to cap these interest rates, and require all lenders to follow the same standards as our local banks and other for-profit lenders. As a nation, we have a long way to go to make sure that those who have protected and defended our homeland are themselves protected and defended when they return home to rebuild their lives."
In the Spring of this year, the Consumer Financial Protection Bureau took on the Fort Knox National Company and its Military Assistance Company subsidiary for cheating veterans of millions in hidden service fees, and won back $3.1 million. Representatives Suzanne Bonamici (D-OR) and Mark Takano (D-CA) both called on the CFPB to provide stiffer rules. As Rep. Takano said,
"The Consumer Financial Protection Bureau should use its authority to crack down on the worst abuses in the payday loan market. Veterans and their families have paid tremendous sacrifices to keep us safe. The least we can go is protect them from unethical lenders who deliberately trap them in a cycle of debt."
Representatives Chu (D-CA), Grijalva (D-AZ), Hinojosa (D-TX), Lofgren (D-CA), Slaughter (D-NY), and Brownley (D-CA) submitted written statements to the same effect.