FOR IMMEDIATE RELEASE: April 19, 2018
CONTACT: Cara Newlon, CRL@berlinrosen.com , 703 899 3206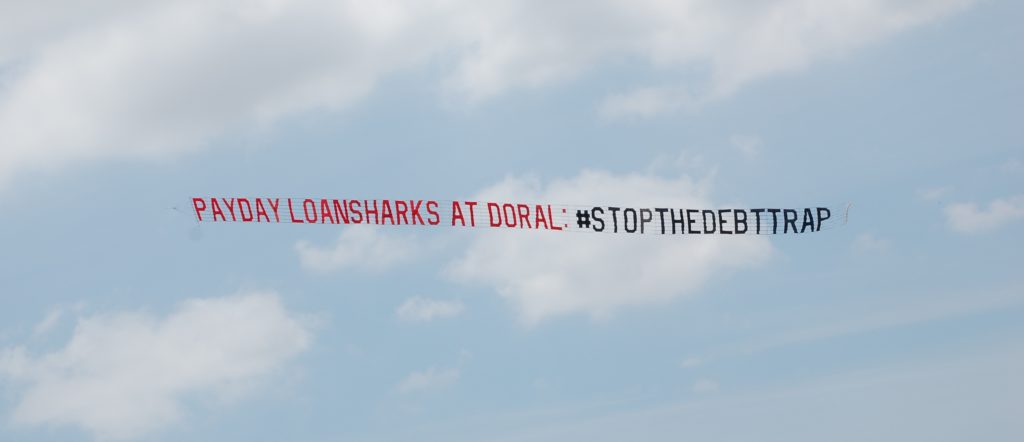 Payday Lenders Rip Off Our Families and Corrupt Our Politics
Opponents fight predatory lending, in the air and on the ground
Industry executives hobnob at Trump's Florida golf resort
Doral, Florida –A diverse group of opponents of predatory payday lending, a form of short-term debt with triple-digit interest rates, rallied on the way into, outside of, and above President Donald Trump's Doral Miami golf resort where payday lending leaders toasted the work of Trump allies and appointees in attempting to roll back consumer protections.
"Payday lenders are meeting at the Trump Doral Club in Miami in a transparent attempt to curry favor with the administration, while Trump's man at the Consumer Financial Protection Bureau threatens to gut common-sense protections for borrowers," said José A., payday campaign manager at Americans for Financial Reform. "These semi-legal loan sharks will do just about anything to buy off public officials so they can keep ripping people off.
Even before they arrived at Trump's resort, payday lenders were met at the Miami International airport with signs warning people of the dangers of payday lending. Latino Victory and FLIC Votes rallied outside the conference today, following a similar gathering of pastors on Tuesday.
"Payday lenders bought international flights for state legislators from Ohio and Wisconsin in an attempt to get their way," said José. "A former payday lending executive and Mulvaney campaign contributor asked Mr. Mulvaney for a job after he dropped an investigation of her company. These scandals show the lengths these loan sharks will go to buy our officials."
For much of today, an airplane with the banner "Payday Loansharks at Doral #StopTheDebtTrap" circled Miami, complementing the trucks with a similar message that circled the resort and airport ads that greeted the payday lenders.
"The opponents of predatory payday lending will not let these loan sharks corrupt our democracy outside of the light of day. We'll fight them in the sky if we have to."