Cross posted from People's Action.
We're making a splash to stop the payday debt trap.
June 26-August 2 was Shark Week on the Discovery Channel. While millions tuned in to watch some of the fiercest predators in the sea, People's Action Institute made a splash highlighting the loan sharks who stalk our communities, trapping families in an endless cycle of debt.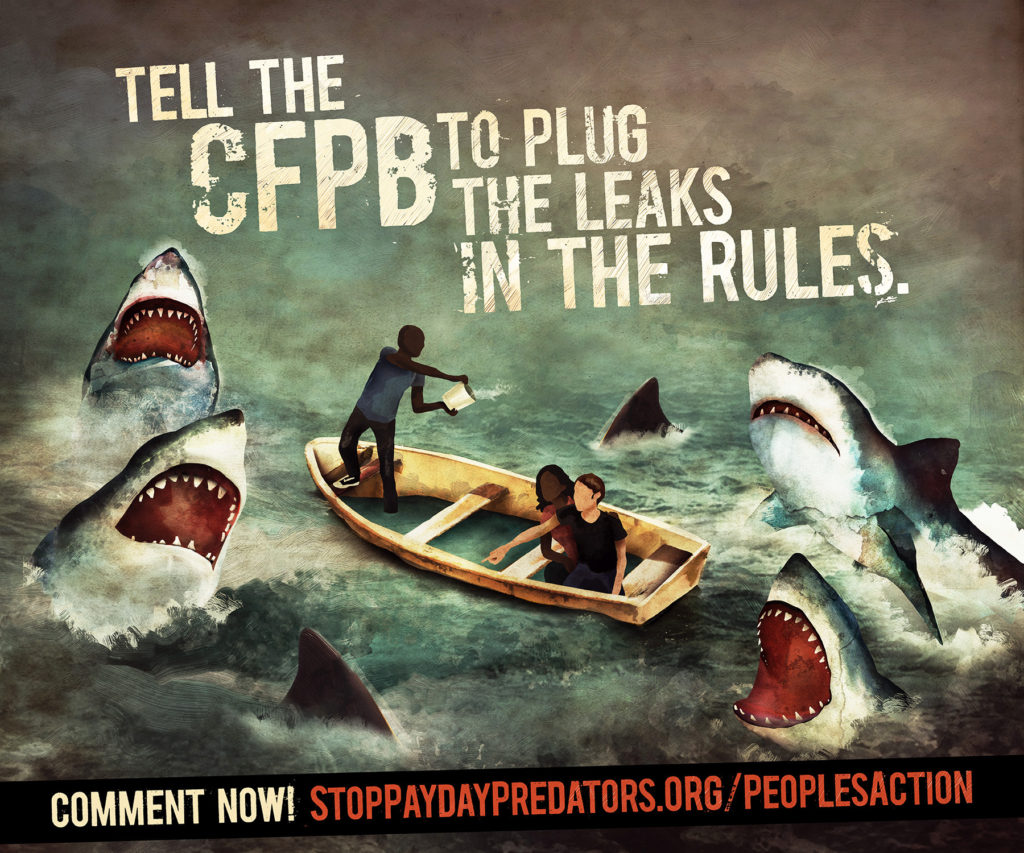 On June 2nd, the Consumer Financial Protection Bureau (CFPB) opened a comment period on the new proposed rule to regulate payday, car title, and installment lending. People's Action and People's Action Institute showed up big, pushing the agency to enact stronger rules and getting coverage of our efforts in the New York Times and CBS Evening News.
Since then, we've been hard at work generating comments from borrowers and community leaders demanding that the CFPB strengthen the rule. To date, People's Action Institute and our affiliates have gathered more than 35,000 comments.
During Shark Week, we also took to social and traditional media to spread our message about the need for strong rules.
With help from The People for Bernie Sanders, we shared a video about payday lending that got more than 40,000 views and was shared more than 600 times. Posts on our own Facebook and Twitter feed each engaged almost 30,000 people.
Our national and state allies in the Stop the Debt Trap campaign also joined in, tweeting and posting People's Action Institute's images and their own Shark Week creations. See the Storify of the entire week here.
Last week, in the Huffington Post, People's Action Institute co-director George Goehl called for those inspired by the big ideas of Bernie Sanders's campaign to take action on the banking fight we can win right now.
And yesterday, in Huffington Post Business, Amanda Balantine, the National Director of Main Street Alliance, a project of People's Action, wrote about the harmful impact payday lending has on small businesses across the country. Main Street Alliance leader David Borris also spoke about the way payday lending impacts his employees in an online video posted this week that has been shared more than 50 times.
People's Action Institute Policy Director Liz Ryan Murray wrote a piece called "Swimming Against the Loan Sharks" that appeared in Common Dreams, Truthout, and Inequality.org. She told the story of those who have been trapped by payday loans and of the predators who profited off them. She also outlined the ways in which the CFPB's proposed rule should be strengthened, such as ensuring that every loan is affordable and properly underwritten.
Finally, our affiliates from Main Street Alliance, New Jersey Citizen Action, and Michigan United wrote some great pieces.
In Florida, MSA leader Andrew Lytle wrote about encountering payday loan storefronts during his business travel across the state.
Marzett Hawkins, an MSA leader who owns Integrity Hawk in Columbus, Ohio, wrote on Medium about his own experience taking out a payday loan — and how these loans prevent people from goals like buying a house or starting a business.
Oregon MSA leader Carmen Ripley Wilson wrote a letter detailing how payday lenders ultimately impact her bottom line by emptying her customers' pockets.
Phyllis Salowe-Kaye, executive director of New Jersey Citizen Action, wrote in the Asbury Park Press of how payday lending has trapped New Jerseyans in debt online, even though the state has limits on high cost lending, providing even more reason for strong federal regulations from the CFPB.
Finally, in Michigan, Debbi Adams told the Public News Service that payday lenders in the state collected more than $103 million in fees last year and said "this needs to stop."