On Tuesday, the House Financial Services subcommittee on Consumer Protection and Financial Institutions held a landmark hearing, entitled "Ending Debt Traps in the Payday and Small Dollar Credit Industry," which highlighted the harms of these predatory lenders. Video highlights of the hearing are linked here in this Twitter thread and the full video is available here.

The hearing included the following remarks from witnesses about payday loans:

"When the vulnerable are drowning in desperation, the payday industry throws a 'life preserver' weighted with iron of usurious interest rates. The average annual interest rate for payday loans in the United States, 391% APR, is absurd and outrageous," said Rev. Dr. Frederick Douglass Haynes, III, Senior Pastor, Friendship-West Baptist Church.

Kenneth Whittaker, an activist and former payday loan customer, said, "All told, that original $700 loan cost me over $7,000…. I strongly support keeping the [currently threatened] 2017 CFPB [payday] rule. I also support the proposal to cap annual interest rates at 36% to stop predatory lenders from trapping customers into high-cost loans that can ruin their financial lives."

"The harms of these debt trap products further economic inequality and further the racial wealth gap," said Diane Standaert, Director of State Policy, Center for Responsible Lending.

"The average interest rate of the New York City so-called La Cosa Nostra organized crime families… was 250% APR. By way of comparison, the average interest rates nationwide at payday loan stores is about 400% APR," said Chris Peterson, Director of Financial Services, Consumer Federation of America.

State and local organizations from across the country joined in a tweetstorm, livetweeted developments, and amplified messages stemming from the hearing: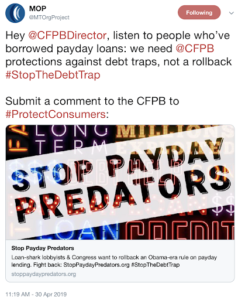 If you support stronger consumer protections on payday lending, send the CFPB a comment at: www.stoppaydaypredators.org.
###

Stop The Debt Trap is a coalition of civil rights, consumer, labor, faith, veterans, seniors and community organizations from all 50 states who are committed to ending payday loan debt traps