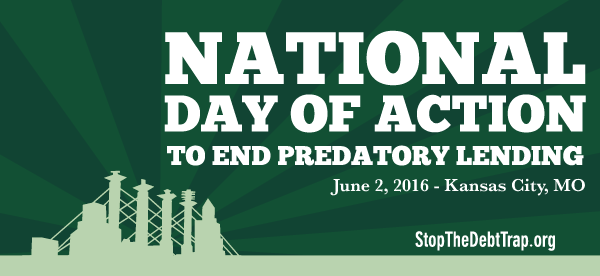 In more than 30 states, payday lending companies charge interest rates of 300% or more, trapping families in spirals of debt from which they cannot escape. Right now, the Consumer Financial Protection Bureau (CFPB) has the power to stop this debt trap.
On June 2nd, the CFPB will present new proposed payday lending rules during a field hearing in Kansas City, MO - calling for comments from our communities and congregations before creating the final rules.
We know that payday lenders are fighting to keep their unfair and abusive practices going. It's up to us to make sure the CFPB hears loud and clear that we need to make the final rules as strong as possible.
Join this historic opportunity to #StopTheDebtTrap: Come to Kansas City for a National Day of Action on June 2nd.
It's time to protect ourselves and our loved ones against these unregulated profiteers extracting wealth from our families, entire communities and those with limited borrowing alternatives. All of our voices are needed to make the final rules as strong as possible!
The National Day of Action to End Predatory Lending will be a powerful event involving hundreds of grassroots and advocacy organizations and thousands of people from across the country who have been working for relief in their communities. Hundreds of reform advocates will rally for a public action in Kansas City, Missouri, where the new rules will be announced, and thousands more will make direct impact by taking part in our online action.
This is a developing event – More information will be posted as soon as it is available.
Rally Details
Thursday, June 2 – Kansas City, Missouri
9am – Kickoff Action
Location: Barney Allis Plaza
10am – CFPB Hearing (RSVPs required – make sure you are signed up with us!)
Location: Kansas City Music Hall
12:30pm – National Rally for Reform
Location: Barney Allis Plaza
(need additional details? Sign up to stay connected!)
Useful Links
Stop the Debt Trap Stories – hear real stories from borrowers and reform advocates across the country about their experiences with the debt trap.
Why Kansas City? – learn more about the struggle for payday lending reform in the site of the CFPB's upcoming field hearing.
National Day of Action Signup Page – Get involved with the biggest day on payday loan reform in a generation.
Shareable Graphics